As of this writing, Louisa County remains in an extended period of rising home prices, limited supply and mortgage rates that are as low as they have ever been.
With the onset of the coronavirus crisis, the rates are likely to stay low, and there's no sign there will be a sudden boost in supply any time soon. But what happens to prices over the next few months is anyone's guess.
"If people just persevere, we'll come through this, but it's probably going to get worse before it gets better," said Tom Woolfolk, president of Charlottesville Area Association of Realtors, who has deep roots in Louisa County. "I'm cautiously optimistic."
Woolfolk, who sells homes and land for Keller Williams, was talking specifically about the coronavirus, but from a homebuyer's perspective, he could have been speaking about market conditions over the past couple of years. It's been terrific for sellers, but less so for buyers.
CAAR's fourth-quarter report for 2019 shows that the median sales price for single-family detached houses in Louisa County rose to $269,425 from $232,500 during the same time period one year earlier.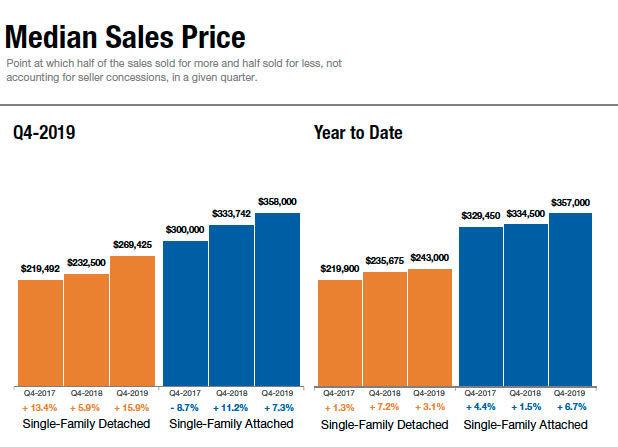 Meanwhile, the number of months' supply of inventory for sale remained stagnant at 2.8.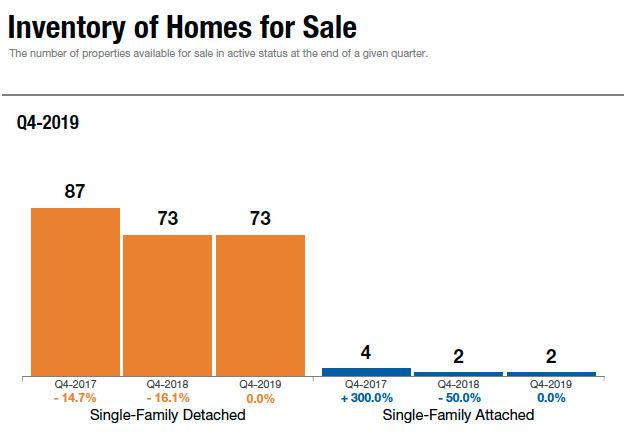 "The rate of new home construction is not where we need to be, and this puts pressure on sales of existing houses," Woolfolk said. "It's normal to have five to seven months of inventory available. Less than three is pretty tight."
The good news is that while the prices of existing houses keep on rising, some of the new homes that have come on the market in the past year are priced reasonably for first-time homebuyers and others who don't have deep pockets. 
The median sales price for new houses built in Louisa in the fourth quarter was $299,000, compared to $304,500 one year earlier. Looking at the full calendar year, the median in 2019 dropped from $350,000 to $240,000.
A wave of construction in Countryside, a large subdivision in the town of Louisa, probably contributed to these numbers. Hidden Farm Estates, a neighborhood off of Chopping Road near the town of Mineral, has also seen significant building recently. Many of the houses in the latter community are single-story, another factor that brings down the price.
"A lot of small houses under 1,500 square feet are being built," said Rich Gasper, Louisa County assessor. "That's become the entry-level, affordable housing in the county."
Interest rates were already quite low, and now they're ridiculously low. Sherry Palmer, owner of Lloyd's Real Estate in the town of Louisa, said that her colleague Crystal Hill recently was able to find a client a two percent rate.
"That's just unheard of," she said.
Palmer said when a house comes on the market nowadays, it gets visits from 20 different potential buyers over the course of a weekend.
Woolfolk sees a couple of reasons why housing production hasn't risen more along with demand. After the Great Recession more than a decade ago, many small home builders couldn't make money and left the market. 
In addition, the larger builders that have stayed in Louisa have found it difficult to find parcels of land large enough for them to build homes. In some cases developers who platted large subdivisions before the recession went into bankruptcy, leaving it to banks to sell off small lots one by one. 
At least one large builder, Liberty Homes, continues to find success in Louisa's market, building on small lots scattered around the county's rural areas.
"They build a home that has a price point that a larger share of the population can afford," Woolfolk said.
In more urban areas closer to Charlottesville, developers have taken more creative approaches to keeping housing affordable. Woolfolk noted how the developers of Belvedere, a neighborhood off Rio Road in Albemarle County, included accessory apartments above garages with each new single-family home they built. Homebuyers then had the option to rent out the apartments.
Although accessory units are allowed in Louisa County, the particular approach used at Belvedere won't necessarily make sense here. A different solution Woolfolk has seen in Louisa is for an individual to buy a 1,000-to-1,200-square-foot ranch house, update the interiors to make it more livable, and sell it for a profit of anywhere from $50,000 to $150,000.
"I have a feeling we'll see more of that as these houses age," he said. "It's probably a lot cheaper to renovate them than to tear it down and build new."
Since the coronavirus became an issue, some open houses have been canceled and realtors are not driving with clients to see homes as much as before, Woolfolk said. 
"We're still working with people, but I can't predict how this emergency is going to continue," he said. "Some industries like tourism and travel are caving in pretty quickly. But we're okay for right now."